Easy installation glass-fused-steel bolted tanks for grain and dry food storage
Product Detail
Product Tags
Easy installation glass-fused-steel bolted tanks for grain and dry food storage
Glass-Fused-To-Steel Tank / Glass-Lined-To-Steel Tank
YHR Glass-Fused-To-Steel/Glass-LIned-Steel Technology, is a leading solution which combines the advantages of both materials – the strength and flexibility of the STEEL and high corrosion resistance of the GLASS. The Glass fused to the Steel at 1500-1650 deg. F, become a new material: GLASS-FUSED-TO-STEEL with perfect anti-corrosion performance.
YHR has developed high-strength TRS (Titanium Rich Steel) plates specially produced for Glass-Fused-To-Steel Technology, which can work perfectly with our glass frit and can eliminates the "Fish Scale"defect.
Specification
| | |
| --- | --- |
| Standard Color | RAL 5013 Cobalt Blue, RAL 6002 Leaf Green,RAL 6006 Grey Olive,RAL 9016 Traffic White,RAL 3020 Traffic Red,RAL 1001 Beige (Tan)               |
| Coating Thickness | 0.25-0.45mm |
| Double Sides Coating | 2-3 coats each side |
| Adhesive | 3450N/cm |
| Elasticity | 500KN/mm |
| Hardness | 6.0 Mohs |
| PH Range | Standard Grade 3-11; Special Grade 1-14 |
| Service Life | More than 30 years |
| Holiday Test | Acc. to tank application, up to 1500V |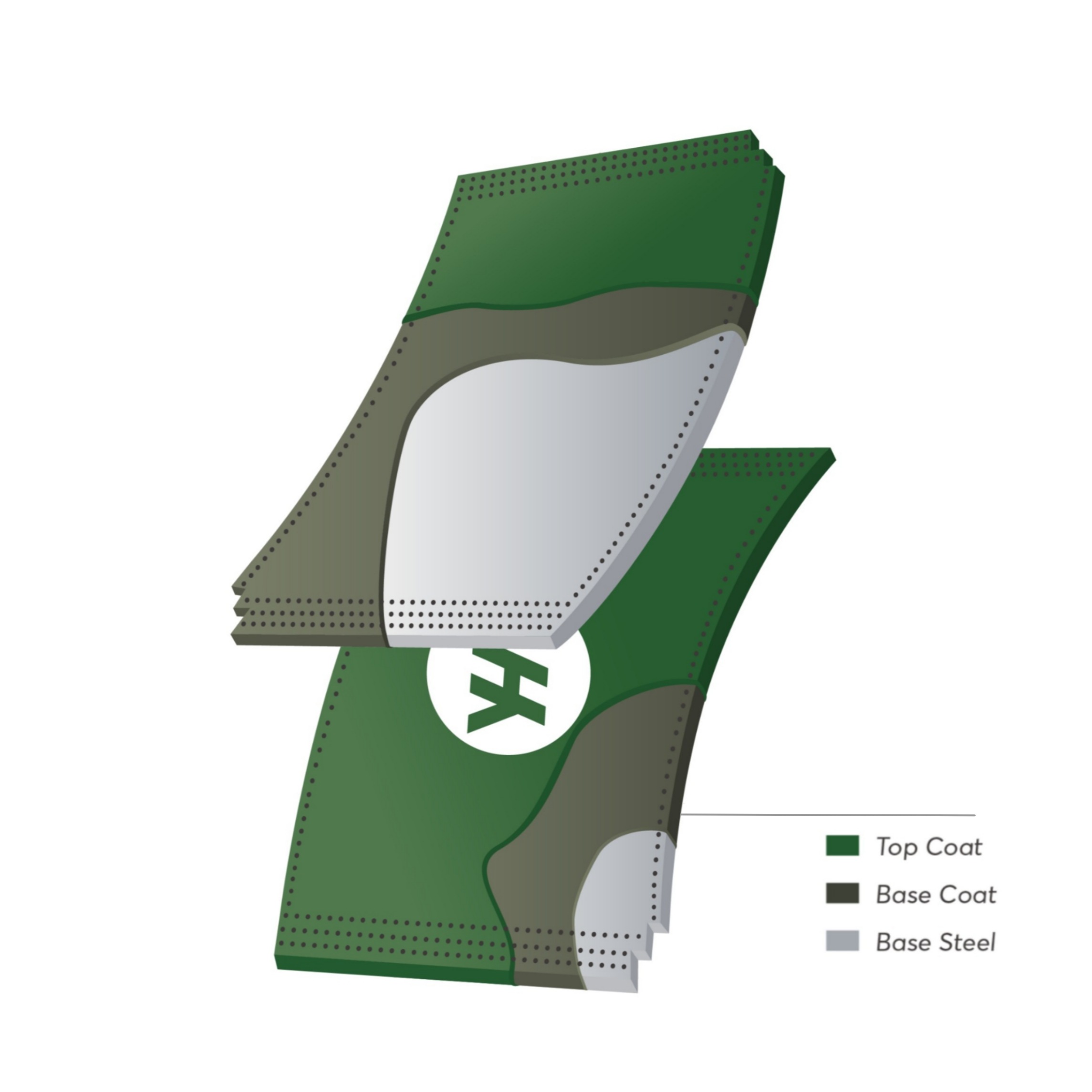 Comparison between GFS/GLS Tanks and Concrete Tanks
1. Easy Construction: All the tank shells of Glass-Fused-To-Steel Tanks are factory coated, can be easily assembled and installed in difficult conditions, to meet the urgency requirement of project, unlike Concrete Tanks will be affected seriously by bad weather and other factors.
2. Corrosion Resistance: Concrete tank would corroded through to reinforcing bar within 5 years of installation, Glass-Fused-To-Steel Tanks with 2 layer of Glass coating, can be applied for PH from 3 to 11, Center Enamel also provide 2 Years Warranty of its Glass-Fused-To-Steel Tanks.
3. Leakage and Maintenance: Concrete is susceptible to cracking so that many Concrete Tanks show signs of visible leaks and require substantial remedial maintenance, Glass-Fused-To-Steel Tanks are an excellent alternative with less maintenance due to the steel strong tension strength.
Quality Control
ISO 9001:2008 Quality Control System

ANSI AWWA D103-09 Design Standard

Titanunum-Rich-Steel plates specially produced for GFS Techonogy

Holiday Testing every panel at 700V – 1500V acc. to tank application

Glass Coating Thickness every panel on both sides

Fish Scale Testing (one test for one batch)

Impact Testing for enamel adherence (one test for one batch)
Certification:
Chinese National High-tech Enterprise
ISO 9001:2015
NSF/ANSI/CAN 61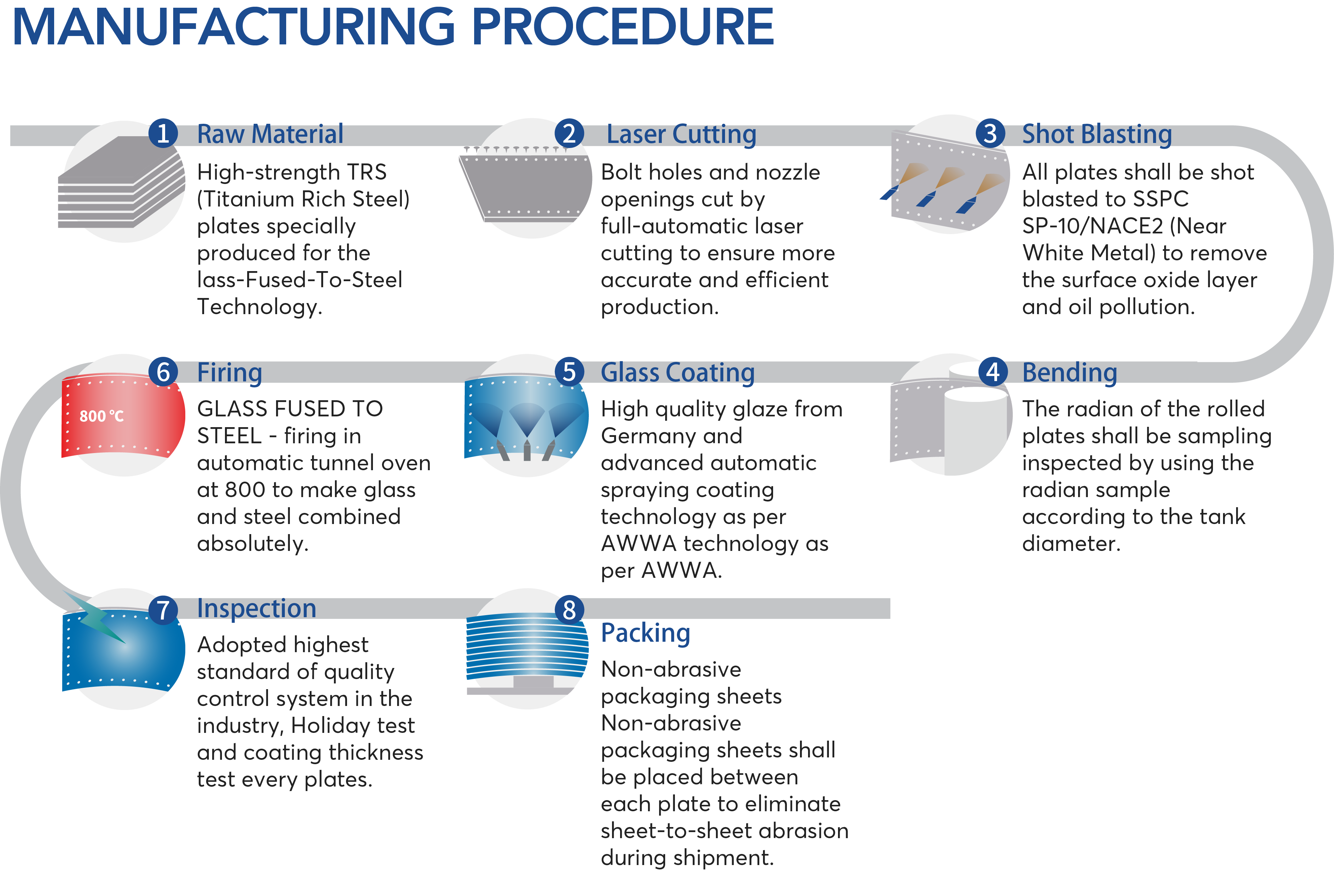 Application
Municipal wastewater

Industrial wastewater

Potable water

Fire protection water

Biogas digester

Slurry storage

Sludge storage

Liquid leachate

Dry bulk storage
Advantages
Excellent anti-corrosion performance

Smooth, cohesionless, anti-bacteria

Wear and scratch resistance

High-inertia, high acidity / alkalinity tolerance

Fast installation with better quality: design, production and quality contril in factory

Less influenced by local weather

Safe, skill-free: less working aloft, no need for long time worker training

Low maintenance cost and easy to repair

Possible to combine with other technologies

Possible to relocate, to expand or to reuse

Beautiful appearance
Project Cases
 Company Introduction

YHR is a Chinese National High-Tech Enterprise. We started our research of Glass-Fused-To-Steel Technology since 1995 and built the first China-Made Glass-Fused-To-Steel Tank independently in 1999. Nowadays we are not only the leading Bolted Glass-Fused-To-Steel Tanks manufacturer, but also an integrated solution provider of biogas engineering. YHR is expanding oversea market rapidly, our Glass-Fused-To-Steel Tanks and equipment has been delivered to more than 30 countries.
---
---
Write your message here and send it to us